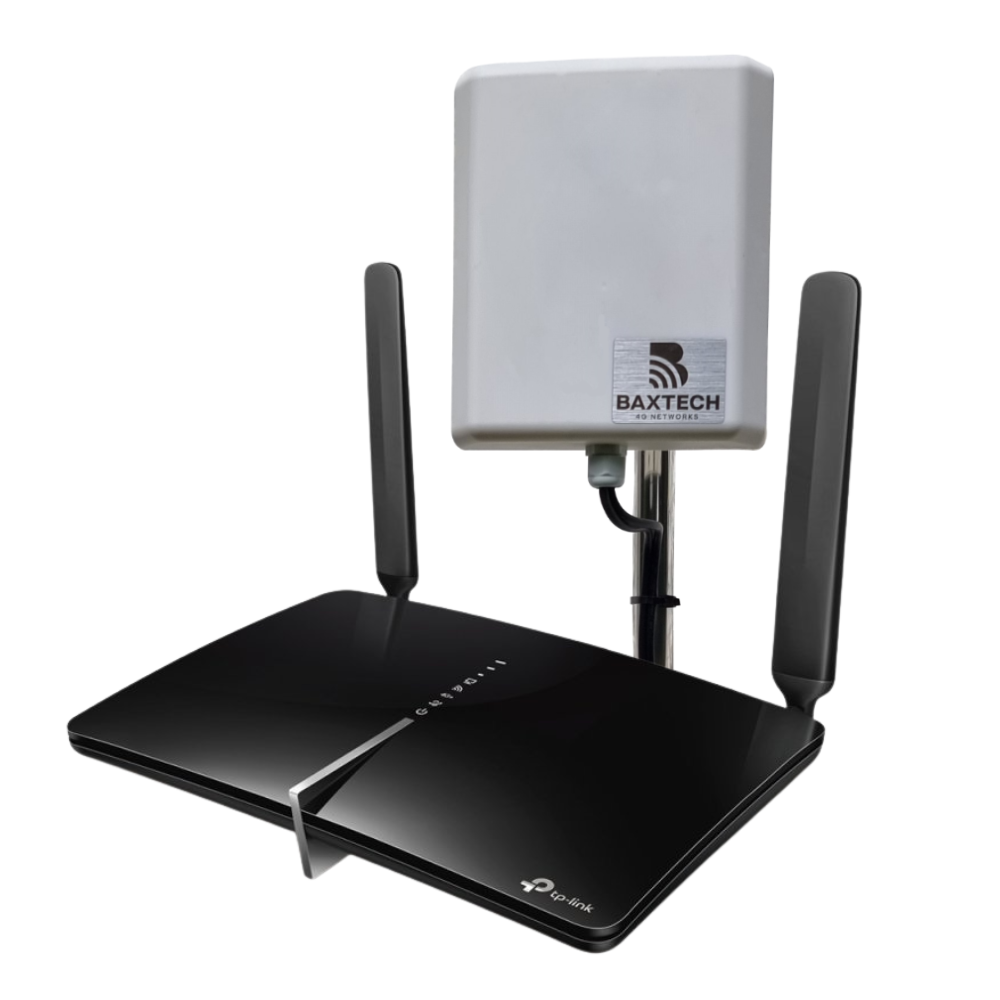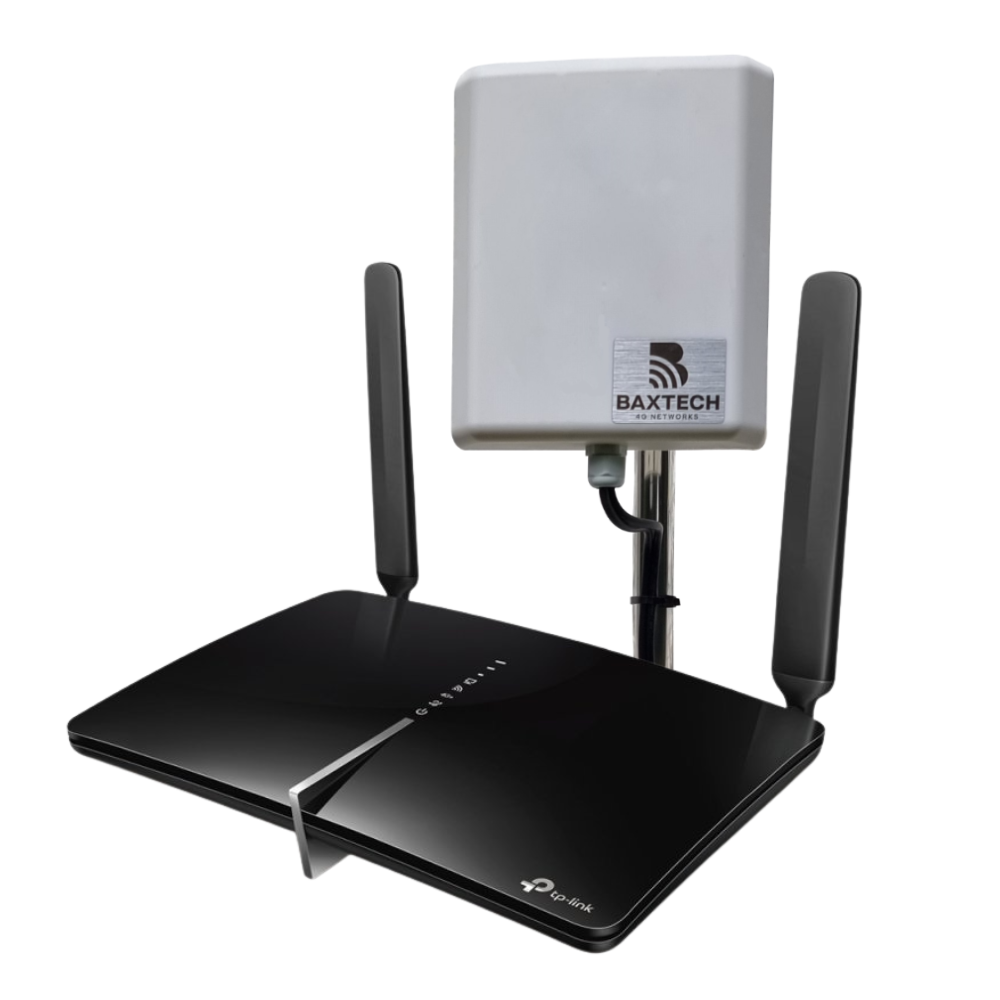 DIY 4G Broadband Kit
Self-install 4G Broadband kit
TP-Link Archer MR600 MU-MIMO WiFi 5 4G LTE Cat6 Router w/ Baxtech 4G Networks 10 dBi Directional Antenna
£249.00
Tax included
Free 1-3 working day delivery
Included in this package:

▸Baxtech 4G Networks 10 dBi High Gain directional antenna with 5M cable and mounting kit
▸TP-Link Archer MR600 4G+ Router CAT6
▸Cable clips
▸Installation manual with expert 4G installation tips and tricks
▸A map of masts in your installation area
▸Mounting pole not included

TP-Link Archer MR600 WiFi 5 4G+ LTE CAT6
The TP-Link Archer MR600 WiFi 5 4G+ LTE CAT6 Router supports 4G+ CAT6, which uses Carrier Aggregation technology to boost the 4G+ speeds of up to 300 Mbps. Tested in the field for years to ensure universal compatibility with two advanced LTE antennas to deliver a smooth connection. Simply plug in a micro SIM card (not included) and power on this elegant piece of technology to utilise fast and stable WiFi, whether you're at home or working remote. Paired with our high gain 10dBi antenna this makes for the perfect home 4G broadband system in rural areas or areas that do not have a wired broadband or telephone line.

• Includes Baxtech 10 dBi High Gain Directional Antenna
High quality 10dBi 4G antenna capable of picking up an excellent signal even in the most rural areas.

• 4G+ CAT6 Router
Carrier Aggregation which means in 4G+ areas you can connect to two 4G bands doubling your download speeds up to 300Mbps.

• Full Gigabit Network Ports
Plug in your devices to one of the four full gigabit network ports for more reliable connections for your important devices.

• Better WiFi technology
Beamforming technology finds your connected devices and strengthens the signal in that specific direction for up to 64 simultaneous devices.

• Insert SIM card for instant use
Insert any UK phone or data SIM and connect instantly to the internet
Includes Baxtech 10 dBi Directional antenna
Our Baxtech 4G Networks 10 dBi Directional cross polarised antenna will provide your router with an excellent 4G signal. It uses the latest technologies and materials with a maximum gain of 10 dBi to provide excellent bandwidth and a low latency connection. Our antenna is tried and test by our many happy customers. Simply connect to your router to achieve a fast and reliable home or business broadband connection.

• Cross Polarised 2x2 MIMO

• 10 dBi High Gain

• Weather and waterproof

• 2x 5m cables

• Light and durable

• Pole mountable

• Expert installation guide and phone mast map
Expert installation guide and phone mast maps
We have create a tips and tricks guide to share our expertise to ensure you get the most out of your 4G Broadband System. We will also send you a map of masts near your installation area to make the installation that little bit easier. Our installation guide covers the following:

• Which SIM to use and what SIM providers provide best signal

• Surveying your property to find best installation location

• How to configure your router and how to read signal to ensure you have the best connection
Expert advice, set-up guide and mast maps
Free 1-3 day delivery
1-Year Warranty
Our DIY 4G Broadband Kit is a self install 4G broadband system with our experts tips and tricks installation guide. The system includes our Baxtech 4G Networks 10dBi directional antenna that needs to be positioned towards your closest mast and a TP-Link MR600 4G+ router, the best 4G router on the market.
The Internet
Connection to the internet is provided by a 4G SIM card. We recommend you use the Ofcom 4G Coverage checker tool to check 4G coverage in your area.
4G Mast
This transmits the internet to your 4G router. The antenna is directional which means it needs to be pointed towards your SIM networks mast. We provide you with information of your closest masts.
Your Property
Mount antenna externally on mounting pole (not included). Position antenna accordingly and then connect antenna cable to 4G router.
any questions?
Send us a message and we'll get back to you as soon as we can.